Just north of Kamloops, B.C., sits Chu Chua, home of the Simpcw First Nation and the first Indigenous Initial Attack (IIA) crew for the BC Wildfire Service (BCWS).
The Simpcw IIA crew is the first crew of its kind to work in partnership with the BC Wildfire Service to respond to initial reports of fire on their territory. This partnership began in 2021 and carried into the 2022 fire season. The Simpcw crew typically responds to fires within a predetermined response area, measuring roughly 285,000 hectares, reaching east to the shores of Adams Lake, north to Dunn Peak, as far west as Bonaparte Lake and south to Knouff Lake.
Initial attack is a phase of wildfire response from an initial report of fire through to the first aviation and ground crew responses. Expanding the initial attack program using personnel that are highly knowledgeable about their local area, such as the Simpcw IIA crew, offers many benefits.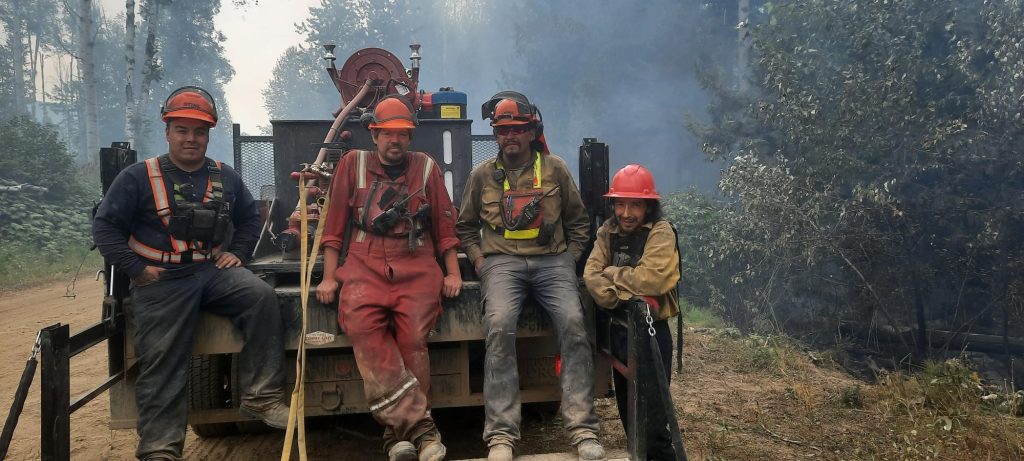 Paul Donald, chief executive officer for Simpcw Resources Group, explained the importance of this crew in the North Thompson region.
"The territory for Simpcw First Nation is really large, our territory actually expands past Valemount and McBride, so it's a vast territory and if we can provide protection to those areas as well, then I think it would be better for all of us. Not just the [Simpcw] First Nation, but for all the outlying communities as well."
The Simpcw IIA crew was on standby to respond to wildfires from June 24 until October 8, 2022. For this crew, the process of being deployed to a wildfire is the same as a BCWS initial attack crew. When a new wildfire is identified in their response area the crew is notified by the Kamloops Fire Centre and deployed to the incident.
This season, Simpcw crew members spent numerous hours responding to wildfires within their territory. While the Simpcw IIA crews had a quiet start to the fire season, a lightning bust moved across the region in late July, resulting in numerous lightning-caused wildfires. Some of these wildfires were managed entirely by the IIA crew through all stages, from initial report, suppression, mop up and patrol before calling the fire extinguished. On other incidents the IIA crew worked alongside BCWS initial attack and parattack crews.
The Simpcw crew's knowledge of the surrounding geography, associated fuel types, and local weather patterns, coupled with their quick response times all contribute to the benefits this crew provides the Simpcw First Nation, surrounding communities and BCWS.
Curtis Pilatzke, crew member with the Simpcw IIA crew, described their experience being actively involved in this community initiative and what it means to be able to respond to wildfire and protect their community.
"A lot of the places we're going to are distant relatives, neighbours and connected to our own community. [This initiative] is doing a lot to help protect here, we're fast in response, we are continuously learning more and improving our knowledge. We've received a lot of gratitude from the owners of property we've been on."
Pilatzke added fire protection isn't just about suppressing wildfires, it's about the greater values across the landscape, too.
"We do a lot to protect values, not just the timber, we're protecting the community and economy – tourism, fisheries, wildlife, ranching, mining, all the industries."
The Simpcw IIA crew has also been employed by community partners, such as the Wells Gray Community Forest and Thompson Rivers Natural Resource District, for various wildfire risk reduction projects in the North Thompson area.
"Can't say enough about Wells Gray Community Forest for stepping up and providing us with some ad hoc projects doing silviculture brushing," said Glenn Foss, forestry manager for Simpcw Resources Group.
These projects allow crew members to learn new skills and practice in a controlled environment, better equipping them for wildfire response, while also reducing wildfire risk through fuel mitigation and other activities.
For communities or bands wanting to emulate this initiative, Foss said recruitment is key.
"Recruiting is the challenge with everything we do. You need the right mix, you expect these guys to work as a team, work alongside other entities like BC Wildfire Service or other industry crews, so it takes a certain personality, and they all need to click in order for that to work.
We've been fortunate to fill those positions. I'm pleased to hear that as this [season] comes to an end, everyone put their hand up to say they wanted to come back next year. So to me that is a success right there."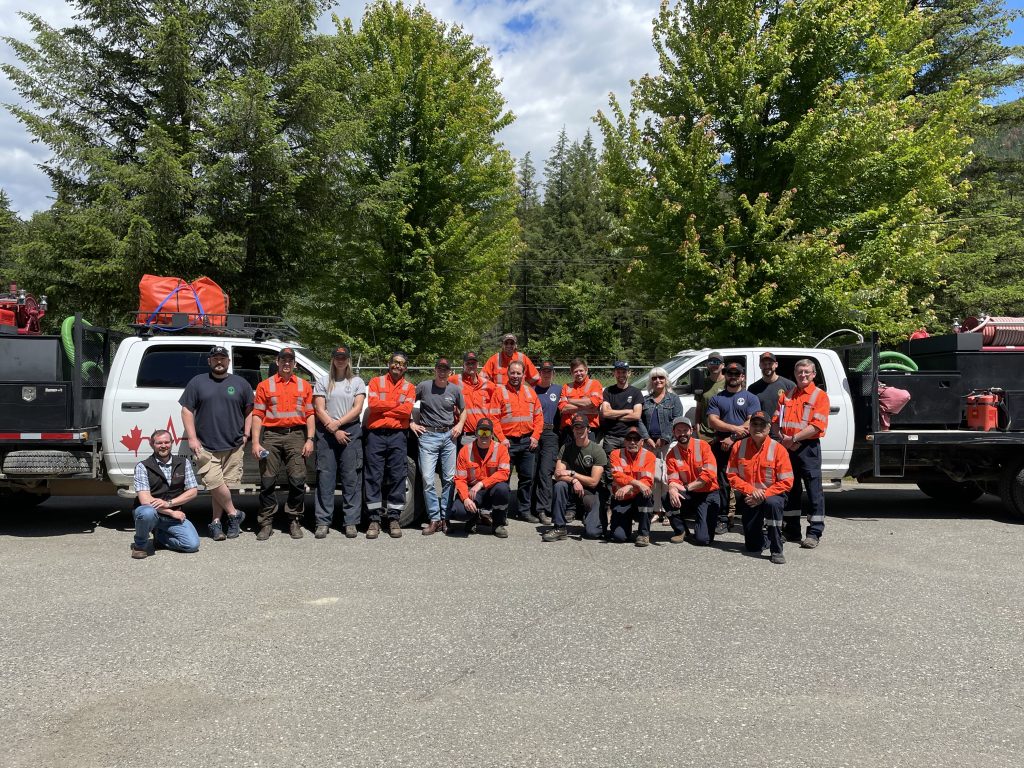 BCWS and the Kamloops Fire Centre sincerely acknowledge and recognize the efforts and professionalism of the Simpcw IIA crews who in 2022 continued to be an essential response capability for the Kamloops Fire Zone. We are looking forward to working closely with Simpcw to ensure success of this program in the years to come.
To learn more about the 2022 wildfire season, read the season summary.
---
Sadly, longstanding Simpcw initial attack crew member Sheldon Eustache passed away in October. Photos included in this story were provided by Simpcw First Nation in his memory. On behalf of the BC Wildfire Service and communities within Simpcw First Nation Territory, thank you for your service Sheldon. May you rest in peace.