Cultural burning, or the use of controlled fire, is a traditional land management practice used by Indigenous peoples around the world since time immemorial. Cultural burning means different things to different individuals.
For some Indigenous peoples, cultural burning is defined as the traditional practice of planned and controlled use of fire on the landscape by Indigenous peoples for cultural and land management purposes. This includes burning for the health of particular plants and animals, as well as using fire for ceremonial purposes.

prescribedfire.ca
Cultural objectives may include restoring and enhancing traditional foods or medicinal plants. Cultural burning may also be used to achieve the same land management objectives as prescribed fire, including:
reduce the buildup of forest fuels
pest management, such as bark beetles
ecological restoration
wildlife habitat enhancement, such as improving wildlife habitat and forage for large mammals such as deer and elk
silviculture
agricultural land and crop management, such as improving livestock forage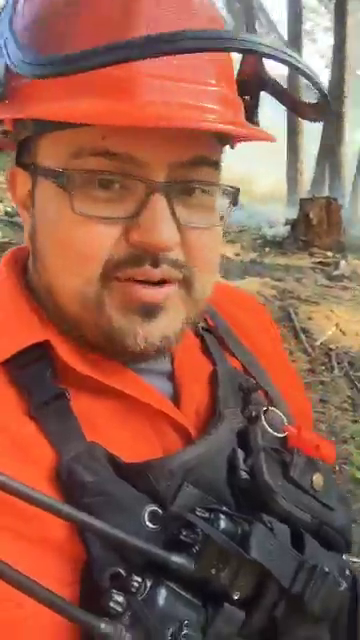 George Campbell is a Wildfire Technician with the BC Wildfire Service and was an original member of the Lytton Rattlers firefighting unit crew based out of the traditional territory of the Lytton First Nation of the Nlaka'pamux peoples. He has participated in cultural burning since he was a teenager in Boothroyd, where he is now also a member of the Boothroyd Indian Band council. For him, cultural burning is an important way to enhance the landscape.
"There are a lot of things that elders pass on when it comes to cultural burning. They don't look at it as a reduction of fuels but instead it's enhancing the landscape and natural resources for things like berries and medicines," says Campbell.
The importance of fire
For many Indigenous communities, fire is a sacred and powerful element used in ceremony, community protection, and sustaining diverse plant and animal life. Historically, there were at least 70 different uses of fire by First Nations. Some of these included reducing invasive species and promoting ecosystems that support wildlife, food and medicinal plants.
Campbell participated in cultural burns aimed at increasing habitat for elk, whose numbers were dwindling in that area.
"We burnt 80 hectares, and it rejuvenated the forest. Grasses grew back, and now the elk population is booming there," he says.
Cultural burns do not burn as high or as hot as a large wildfire. In addition, low-intensity fire delivers nutrients to the soil, whereas large wildfires can cause soil to repel water, increasing run-off and erosion.
Cultural burns are also traditionally a social affair. Campbell recalls his whole community of Boothroyd participating.
"Everybody was involved . . . the elders, chief council, the youth. They were helping however they could," he says. "It's a learning moment."
Firekeepers
Traditional firekeepers carry an important cultural role, tending to sacred fire in a manner specific to the religious traditions of that culture. That could look like tending to a small wood-burning fire to honour the deceased or conducting controlled burns to clear brush and make way for food plants. Knowledge of how to manage fire was passed down through generations.
Importantly cultural burning is a way for people like Campbell to connect with their heritage.
"We did a cultural burn on our territory and it made me feel spiritually connected to the land. Part of the area we were burning was around pit houses and food caches that are centuries old," he explains. "I feel at peace when I'm doing cultural burning because I'm learning so much from elders and firekeepers and the plants."
Bringing back cultural burning
B.C. was the first province in Canada to ban cultural burns with the Bush Fire Act of 1874 and individuals caught burning were subject to fines. This contributed to a loss of firekeeping knowledge and impacted the ecosystems and landscape we see today.
The BC Wildfire Service (BCWS) acknowledges this past and is committed to reconciliation. BCWS is partnering with Indigenous communities and First Nations Emergency Services Society (FNESS) in several ways. At the local level, BCWS fire centres and zones engage with First Nations communities and proponents around burn project planning and implementation. Provincially, in partnership with FNESS, the Cultural and Prescribed Fire Program is shifting to develop the program in true partnership with First Nations.
To learn more about cultural burning, visit: